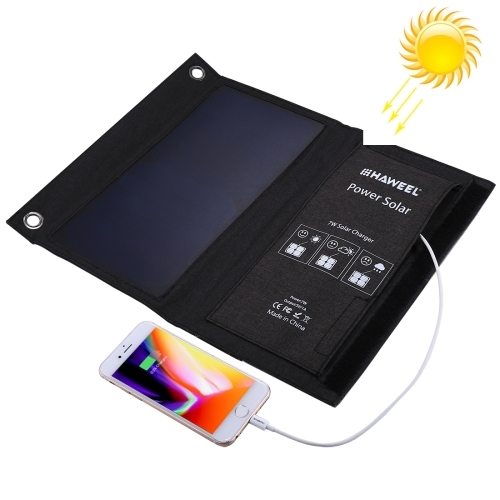 For the on-the-go person, investing in residential solar panels can seem beyond reason if you don't spend much time at home. However, taking the steps to a more sustainable future is not out of reach. Whether you are a camper, RV owner or visiting remote locations, portable solar panels are one of the only viable options to charge essential items.
Look at our Haweel foldable solar panel charger, it won't weigh you down, since it has no internal battery. You can also fold this charger up and toss it in a backpack or laptop bag when you finished charging. The tough PVC rainproof case and water tight solar panel is designed to survive in the wild with outdoor moisture and rain protection, so it great for camping, hiking, picnics, and other outdoor activities. The output port is USB, it can be used to charge smartphones, or any other 5V 1A devices.
The Haweel solar charger without storage power function, it charges for devices under the sun shine, charging time and current based on the sun brightness, match with power bank to use better. Higly efficient sun power transformation, stability voltage panel, no need to worry about demaging your phone.
Do you have a great solar charger for your phone? Come to our Haweel store and get one!