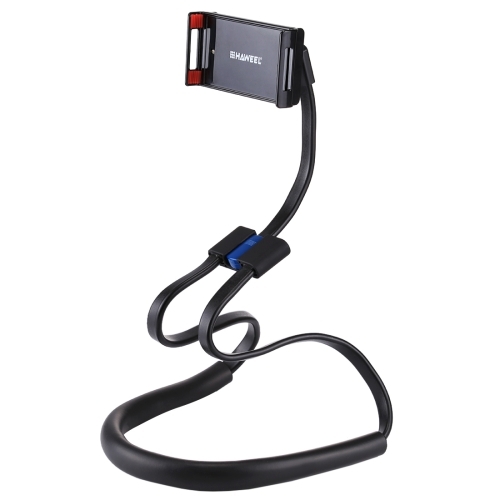 The Lazy Neck Phone Holder is perfect for those who get tired of holding up their phone.  Browsing the internet, watching Netflix or any other phone intensive task makes your arms tired after a while and it simply is not comfortable for extended periods of time.  HAWEEL Lazy Bracket Neck Holder straps your phone right in and hangs around your neck so you'll get the best view while being handsfree. 
Following are features about our Haweel lazy phone holder: 1.You can strap it around your neck without discomfort, you can wrap it around your car or bicycle steering wheel, you can put it on the ground or bed, you can do anything with it, just get your imagination started. 2.360 degree rotating phone case, free to adjust any angle as you like for convenient reviewing. 3.This phone holder is so versatile, it can also work as a stand or selfie stick. Take perfect selfies at any angle! 4. Perfect for viewing phone & watching movie & enjoying music & GPS & phone games in bedroom, car, bicycle,gym, office, exhibition and more. 5. Universal mobile phone stand, compatible with all size of phones and tablets 4 - 10 inch 6. Made of high quality aluminium magnesium alloy, stay stable and can sturdily set your phone in some very unique configuration.
Whether you like to constantly looking at recipe while cooking, watch movie in public transportation, video call while walking around, etc. This holder really helps so you can use your hands for other things or simply relax them.
Because of its super-convenience, this product is blowing up on social media right now. Supplies are low, so be sure and grab one while they last!