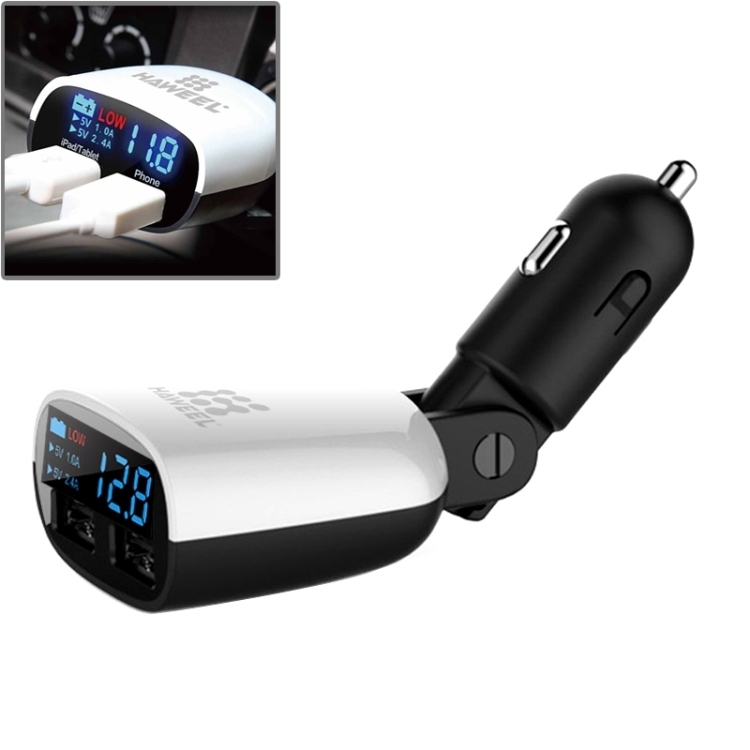 Keep All Your Devices Charged on the go with HAWEEL 3.4A Dual USB Ports LED Display QC 3.0 Car Charger. You do not need to worry about your undercharged smartphones or tablet PC any more.
HAWEEL 3.4A dual USB ports LED display QC 3.0 car charger weighs 43g, making it lightweight. The black and white colour finish gives it a distinctive and elegant look.
This HAWEEL charger with led screen display is designed for convenient and intelligent usage,its secure and efficient 3.4A Max current output(two ports totally) support super fast charging for your mobile phones or any other electrical devices in safety.And its smart led screen is to show your car's battery voltage and current status when charging, which prevents your phone from overcharge.
Smart and accurate voltage display of the automobile battery to let you monitor your car's safety every time,the buzzer alarm will automatically ring when the voltage is below 11.8v or 18V - 23.8V to prompt you to check up your vehicle's battery.
The reasons for your best choice-- HAWEEL Dual USB Car Charger
1.Current volume display shows the charging status automatically
2. 90° degree rotation design satisfies the angle for your perfect view
3.The charger is crafted with top quality environmental friendly fireproof ABS+PC
4. 2 USB devices can be charged at full speed simultaneously.