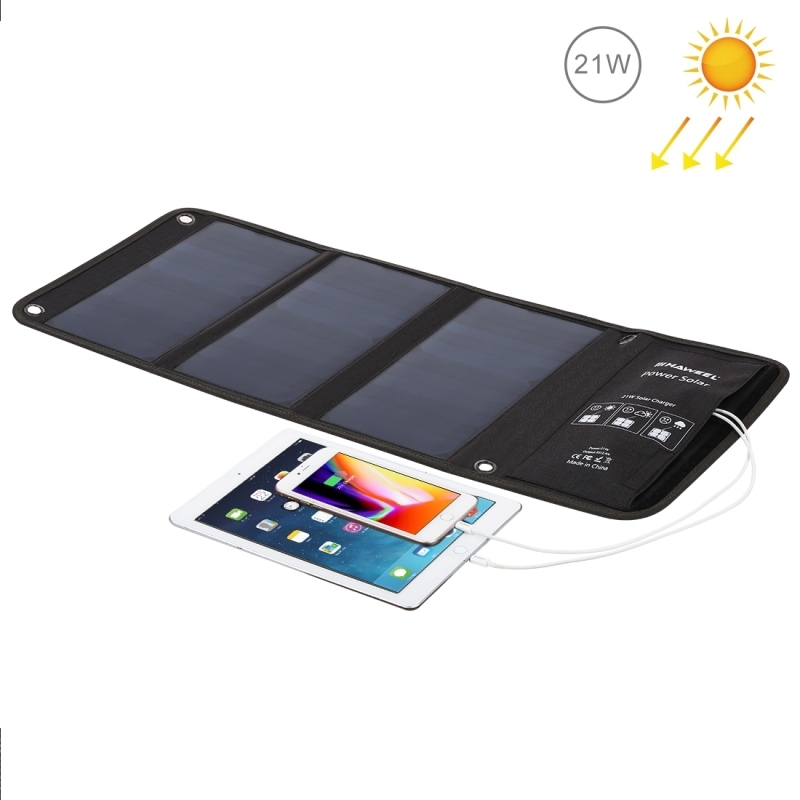 Today on the Blog, we will share with you our favorite charger: HAWEEL 21W Foldable HAWEEL%2021W%20Foldable%20Solar%20Panel%20Charger%20with%20Dual%20USB%20Ports.htm?contact=Joyce'>Solar Panel Charger with Dual USB Ports. What benefits does this solar panel charger have? Why does it attract so many people?
If you travel a lot or you consider yourself to be an outdoor person. Then you might have experienced low battery issues on your phone, your tablet or even your laptop. This would be embarrassing if you are having an important meeting or a conference, or otherwise, you are traveling somewhere or having a trip. To avoid this situation, you can now charge your electronics Anywhere by using our Haweel solar panel charger, This Eco-Friendly device will help you charge your devices, you no more need electricity for it because only sunlight is enough.
High Energy Conversion - Constructed with 21W high efficiency sunpower panel, the power conversion rate increases up to 23%. Dual USB Charging - Providing enough power to charge 2 devices simultaneously with dual USB port, the Haweel 21W Solar Charger has maximum current output of 2.4A. Your devices will be back to full battery in no time.
Incredibly Durable - Industrial-strength pet polymer faced solar panels sewn into a rugged polyester canvas for outdoor usage. Exposure to damp conditions will not damage the exterior part of the solar charger
Highly Portable - Compact size (29*16.5*3cm folded or 69*29cm opened) and stainless-steel eye-holes on each corner allow easy attachment to backpacks, trees, or tents. Lightweight ( 556g) and Ultra-Thin design make it ideal for long treks
Benefits of Solar Panel Chargers
1. They don't require external electrical sources to recharge your batteries.
2. Solar cells generate no emissions, waste or byproducts.
3. Freedom of movement and environmental friendliness.
Note: The solar charger without storage power function, it charges for devices under the sun shine, charging time and current based on the sun brightness, match with power bank to use better.