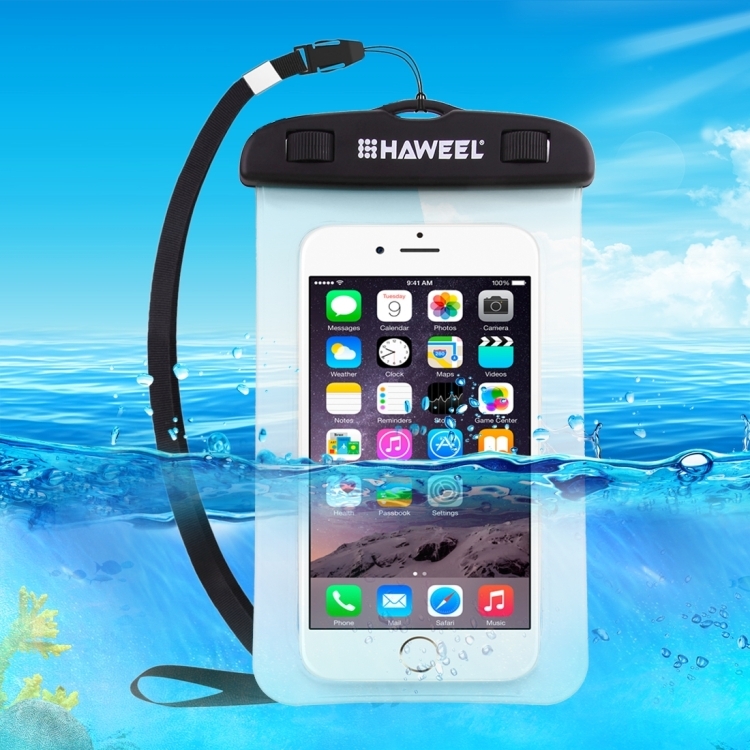 If you already have a case for your phone, then there's no sense in spending a bunch more on a waterproof case (which are few and far between). If you're just headed out on vacation or want to take some pool pictures, then grab a waterproof bag. They fit every smart phones, and you can get them for a lot less than a waterproof case.
This universal waterproof bag is a stylish option in this department and features a handy lanyard, so you can have your iPhone on your wrist while you're splashing around without having to hold on to your phone the whole time.You have your choice of six colors:black, blue, pick, green, orange and transparent color.
Like all good waterproof bags,Haweel transparent universal waterproof bag has a window on both sides.The crystal clear transparent windows to both sides are made of super thin 0.3mm material.The screen-touch sensibility makes taking photos and videos available under the water.
The case is made of environmental non toxic and durable high grade material, completely daily waterproof, rainproof, splashproof, dustproof protection for your device and suitable for camping, boating, fishing, surfing or any other water sport.The waterproof bag allows you to comfortably operate the function of the phones under water, you can trust to keep your cell phone dry.
More importantly, Widely Compatible!!!
1. Compatible with devices up to 100mm x 170mm (clear window 70mm X 140mm); Comes with a neck strap for convenient carrying.
2. Compatible with iPhone 6 & 6 Plus / 6S & 6S Plus, Samsung Galaxy S6 / S5 / Note 5 and other mobile phones up to 6.0 inch screen.
1. Damage may occur during transportation. Please check for damage after receiving the product.
2. For the first use, please put paper and other water absorption articles at first, and be familiar with the operation procedure.
3. After loading the phone, please check whether the card seat is in place and maintain the integrity of the seal.
4. Avoid scratching and impact during use.
5. Please do not use in warm water over 50 degree;
6. After using in water, if you need to take out the product, please put the sealing port downwards to avoid the water of sealing port or out of cover enter in.