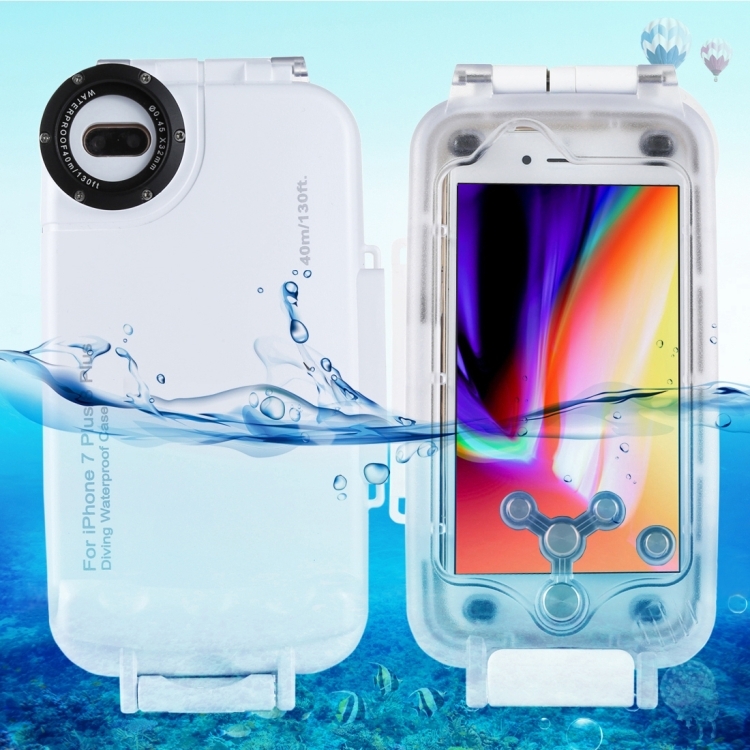 The iPhone is great for taking photos, but what about when you are near (or in) water? Whether you're scuba diving, camping, or just waiting for the bus in the rain, the threat of water damage seems to be everywhere. Today on the Blog, we will share with you our Super Waterproof Case to keep your precious iPhone safe:HAWEEL for iPhone 8 Plus & 7 Plus 40m/130ft Waterproof Diving Housing Photo Video Taking Underwater Cover Case
Keeping your iPhone dry with a waterproof case
A good case is essential if you want to keep your iPhone safe, but while most cases keep your iPhone safe from drops, they do little to prevent water damage.
With a waterproof case you can keep your iPhone 8 Plus & 7 Plus safe from splashes, and even take it into the pool or sea for underwater photos.
Waterproof photo housing for iPhone 8 Plus & 7 Plus is made from corrosion resistant poly-carbonate PC material. It can withstand 40m waterproof depth. Specifically designed for underwater photo taking. Also suitable for diving,surfing,snorkeling,skiing,yacht or other activities. Fully protect your phone, while allowing you to get high quality photography
Main Features:
1. Super quality durable polycarbonate, ABS resist corrosion. 
2. 40m/130ft Maximum Waterproof Depth & Transparent Clear Screen Protector - Clear image view and easily control, suitable for Underwater Photography. 
3. 360 Degree omni-directional Protection - Adopt seamless and fully enclosed process, protect against water, drops, scratches, and dirt, converts your iPhone 8 Plus & 7 Plus into an Gopro Action Camera and Sports DV in a flash. Only fit for iPhone 8 Plus & 7 Plus.  
4. Professional 40 meters diving case - Ideal for extreme sports like bicycle, diving, surfing, boating, motorcycle racing, skydiving, swimming, climbing, skiing, yacht or other activities, capturing every splendid moment, and feel free to share pictures and video on Facebook and YouTube.  
Please note:When using, please lay the sealing ring flat tightly and check it to make sure there is no gap. (There may be some textures next to parts of function keys, but are not crack, would not affect normal use, at present the process cannot be completely avoided that.)
Now without further ado, let's make a purchase of the best waterproof cases for your iPhone..